Revealing Opportunistic Behavior of Village Apparatures in Development of Villages (Study on One Village in Bangkalan District)
Zainal Abidin

Universitas Trunojoyo Madura, Indonesia

Sutikno Sutikno

Universitas Trunojoyo Madura, Indonesia
Keywords:
village development, village apparatus, opportunistic behavior
Abstract
This research had a purpose to reveal the opportunistic of behavior from the staff of Village X in their development. This research used an approach of qualitative descriptive divided into two ways observation and interview from the fenomena happens in the real field. From this result analysis data and information, there are findings about the opportunistic behavior of the village apparatus X in the village development that the village apparatus X is related to the main duty and function of only the community service in the field of health and the positive population to society and the impact is not effective on other services. The ineffectiveness of development allocation is only in the physical development but the positive impact on society. Hiding village financial information and allocation of village development so that the community response felt very less related to the number of APBDesa with the development already implemented by the apparatus of Village X.
Keywords: village development, village apparatus, opportunistic behavior
References
Ernawati,T.(2014). Perilaku Perangkat Desa Dalam Peningkatan Mutu Pelayanan Publik (Studi di Desa Tulakan Kecamatan Tulakan Kabupaten Pacitan). Skripsi S1 Program Sarjana. Universitas Muhammadiyah Ponorogo.

Jensen, M. C. &Meckling. W.H. (2016).Theory of The firm: Managerial Behaviour, Agency Costs and Ownership Structure.Foundation of Organizational Strategy Havard UniversityPress.

Johan, S.(2015).Peran kepala desa dalam meningkatkan pembangunan fisikdi desa Long Nawang Kecamatan Kayah Hulu Kabupaten Malinau.

Karauwan,O. R. (2016). Tinjauan Tentang Perilaku Kepemimpinan Kepala Desa Dalam Pelaksanaan Pembangunan di Desa Tounelet Kecamatan Kakas Kabupaten Minahasa. Jurnal Surakarta.

Megasari,S.G. A.I. (2015). Pengaruh Pendapatan Asli Daerah Selisih Lebih Perhitungan Anggaran Dan Flyppaper Effect Pada Perilaku Oportunistik Penyusuan Anggaran. Tesis S2 Program Pascasarjana Universitas Udayana Denpasar.

Padilah, S. P. A.(2013). Peran Kepala Desa dalam Penyelenggaraan Pembangunan di Desa Malinau Seberang Kecamatan Malinau Utara Kabupaten Malinau. eJournal Ilmu Pemerintahan. Vol. 1(2)

Peraturan Menteri Dalam Negeri Republik Indonesia. (2014). Tentang Pengelolaan Keuangan Desa.

Peraturan Menteri DalamNegeri Republik Indonesia. (2014). Tentang Pedoman Pembangunan Desa.

Peraturan Pemerintah Dalam Negeri Republik Indonesia. (2015). Tentang Pengangkatan dan Pemberhentian Perangkat Desa.

Peraturan Pemerintah Dalam Negeri Republik Indonesia.(2015).tentang Susunan Organisasi dan Tata Kerja Pemerintahan Desa.

Rusadi, P. (2011). Fungsi Kepala Desa Dalam Pelaksanaan Pembangunan Di Kecamatan Kerumutan Kabupaten Pelalawan.Program Studi sarjana administrasi Negara Fakultas Ekonomi Dan Ilmu Sosial. universitas Islam Negeri Sultan Syarif Kasim, Pekanbaru Riau.

Sasana,H. (2009). Peran Desentralisasi Fiskal terhadap Kinerja Ekonomi di Kabupaten/kota Provinsi Jawa Tengah. Jurnal Ekonomi Pembangunan. Vol.10(1). Juni 2009.

Suwanti. (2016). Peran Kepala Desa Dalam Pembangunan Masyarakat Di Desa Ngayau Kecamatan Muara Bengkal Kabupaten Kutai Timur.Ejournal Ilmu Pemerintahan.Vol. 4(1).Undang-Undang RepublikIndonesia. (2014). Tentang Desa.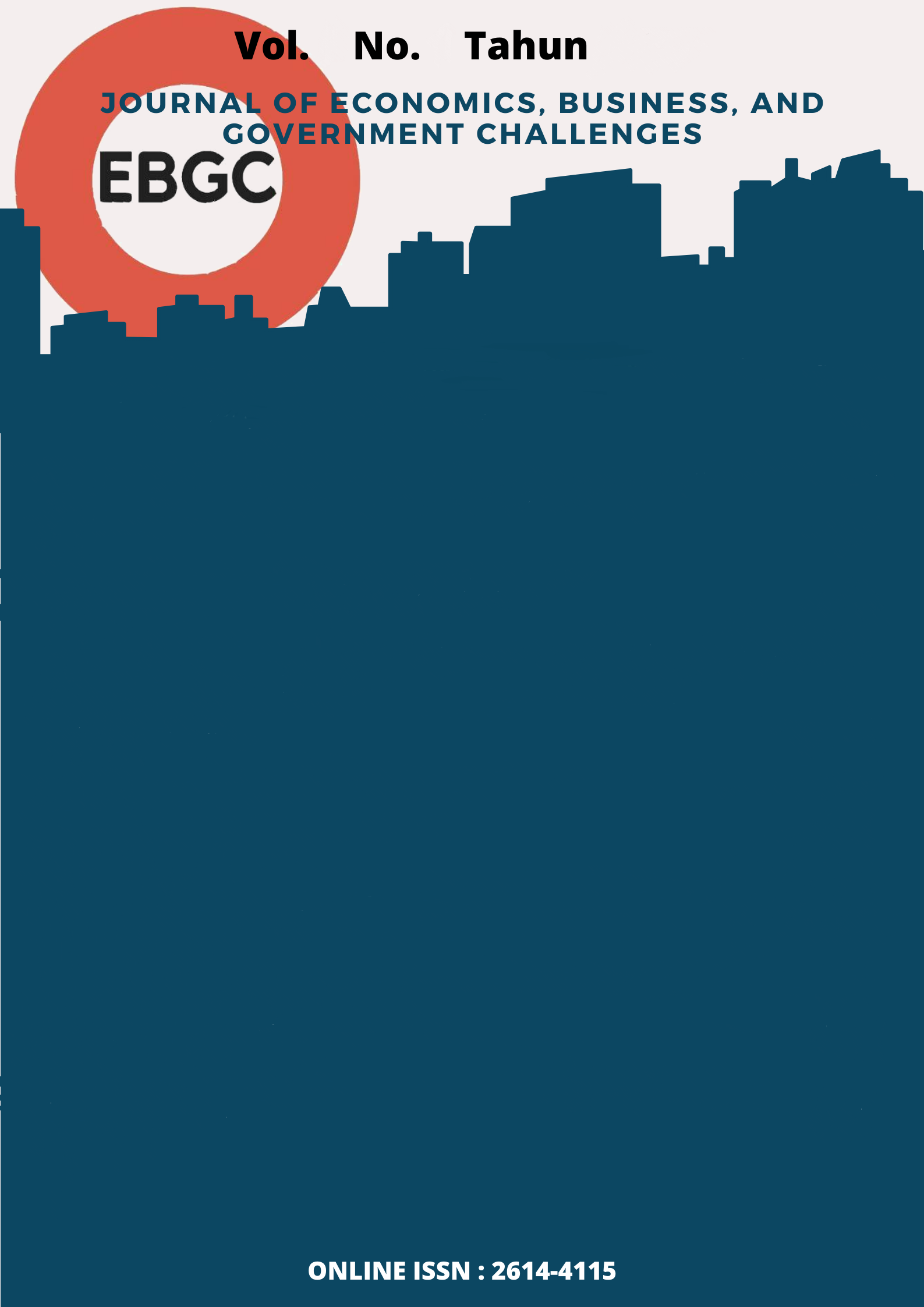 How to Cite
Abidin, Z., & Sutikno, S. (2018, June 9). Revealing Opportunistic Behavior of Village Apparatures in Development of Villages (Study on One Village in Bangkalan District). Journal of Economics, Business, and Government Challenges, 1(1), 22-29. https://doi.org/https://doi.org/10.33005/ebgc.v1i1.6
This work is licensed under a Creative Commons Attribution 4.0 International License.